LOS AYALA
Casa Contenta is located 75 minutes north of Puerta Vallarta in the town of Los Ayala, on the beautiful coast of Nayarit, Mexico. Situated directly on one of the nicest swimming beaches along the Westcoast of Mexico, Los Ayala is a beach paradise. Grouped with the neighbouring towns of Rincon de Guayabitos and La Penita, all within walking distance, Los Ayala forms part of Jaltemba Bay in Riveria Nayarit.
Los Ayala is a very quaint and authentic Mexican beach with just three main roads and cobble stone streets. There are a few small restaurants and shops immediately in town, with many more options for dining and shopping just over the hill in the neighbouring town of Guayabitos – which is a very quick and cheap shuttle or taxi ride away.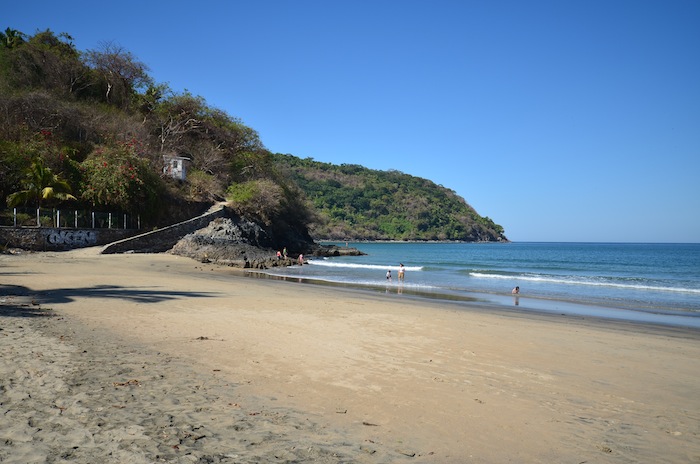 Getting Here
The easiest way to get to Casa Contenta is to catch a taxi at the Puerto Vallarta airport. The ride will be about 75 minutes and typically costs $700-800 pesos. It is also possible to take a bus from Puerto Vallarta to the bus depot in La Penita, then hop in a taxi to Los Ayala. If you would prefer, private taxi service can be arranged prior to your arrival and can accommodate any stops or shopping you would like to do along the way.
When arriving in Los Ayala, make your way to the waterfront and follow the road to the South end of the beach. Casa Contenta is located 3 houses in from the end of the beach at 244 Avenida Del Estero.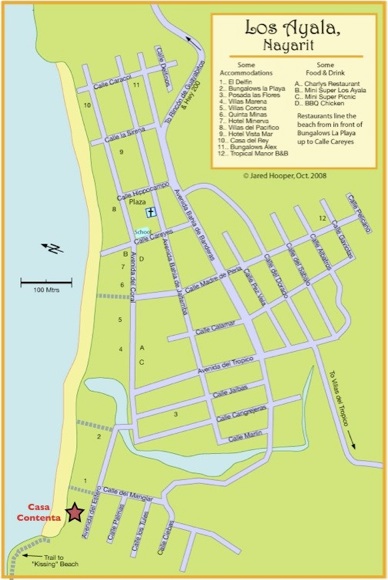 &nbsp